Odds and ends
I've been out of action for a while so I wanted to cover a few things that have transpired in the last few weeks:
1) In case you haven't heard the White Sox won the World Series. I know many Cub fans would rather put that out of their memory rather than to have to read about it again three weeks after the fact, but I thought I'd weigh in with my opinion. Looking around at other Cub blogs and a couple of message boards, it seems feelings are split about 50/50. Some folks rooted or at least supported the Sox in their quest to win the World Series. And of course, there are the die-hard haters who would rather stick a rusty screwdriver in their eye than watch the Sox win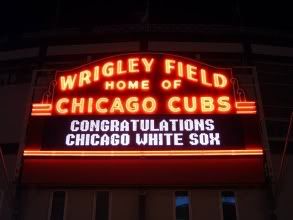 Would you have seen a similar sign at US Cellular if the Cubs had won? Probably not.
it all. Fair enough. Personally, I cheered on the Sox. Call me a bad Cub fan if you like but I don't care. I don't mind the White Sox, and I was happy for them winning it all. It's always good when a Chicago team wins a title. After all, it's not like that kind of thing happens regularly in this city anyway, especially in baseball. However when they won, I wasn't exactly jumping up and down. I was happy that they won, but there was an emptiness about it. It's the same way I felt when the Red Sox won it last year. I was happy it happened, especially because the team had been through such a long drought, but it's not my team. It's not the Cubs jumping up and down in the infield. It's another supposedly cursed team from another town. Or another side of town in the White Sox case.
I congratulated my friends who are Sox fans - even the annoying bandwagon jumpers - and began to face another long winter, made longer now that I have to see "White Sox World Champions" stuff everywhere I go. And yet, after they won Sox fans still felt the need to belittle the Cubs. Even sportswriters like Scoop Jackson (and I use that term loosely in his case) felt the need to reference the Cubs after the White Sox won it all. I guess even a World Series championship isn't enough for some of these people to get over their Cubs hatred. What can you do?
2) Albert Pujols won the NL MVP yesterday. No real surprise there, since he had great all-around numbers and essentially carried his team into the playoffs. Not to mention the fact that he's been getting screwed by Barry Bonds in the MVP vote the last couple of years. Andruw Jones finished second and D-Lee, who had better all-around numbers than Mr. Jones this season, finished third. Of course had the Cubs even come close to making the playoffs, D-Lee may have had a better shot at taking the title but alas. No matter, as 10 years from now, no one will really remember who the MVP was. Hell, some people will probably forget the White Sox won the World Series. Meanwhile A-Rod beat out Big Papi for the AL MVP. I would have voted for Papi, if for nothing else, the fact that he's the most clutch player of our time. Without him the Red Sox would have even sniffed a playoff spot. Of course he got screwed by the fact that he is a full-time DH and the writers tend to factor in fielding into the voting criteria. Can't argue with the A-Rod selection though, as he had yet another monster year. Either one of the candidates is worthy. I'm sure Big Papi isn't too broken up over this. After all he's got a ring and A-Rod doesn't. And that's all that really matters.
3) Rumor has it the Cubbies are close to closing a trade with the Marlins for Juan Pierre. Supposedly the Cubs would give up some minor leaguers - not sure who at this point. Although Pierre battled injuries and slumps during a disappointing 2005 season, He would be by far the best leadoff hitter the Cubs have had since Kenny Lofton was here. Actually he would be the only true leadoff hitter the Cubs have had since Lofton. Good speed would help out this team immensely. Just ask the Sox.
4) Of course there's also the Rafael Furcal deal, but dude's asking for a 5-year deal. The Cubs are balking at this and I can't say that I blame them. It's rare nowadays to see a free agent get locked up to a long-term deal like that. 3 to 4 years with an extension later on is more agreeable. If the Cubs could lock him up for 4 years and $50 mil I'd be happy. But I'm sure the Braves could probably match that and keep him in Atlanta.
5) Another rumor involves the Cubs dealing Patterson for Brad Wilkerson of the Nationals. Wilkerson's BA and SO numbers aren't that impressive, but he did have a .351 OBP last year and a career OBP of .364.
6) Alex Gonzalez (of the Marlins, not the Game 6 goat) name has also been thrown around in rumors. The Braves are also said to be interested, so maybe that will open the door for Furcal to come here.
7) The Cubs have basically told Nomar that he's free to see other people. Personally I'd love to see him back for another year or two. I know he's an injury liability, but he seems like a really good guy, plays hard, was willing to play out of position last year, and his hitting finally came around once he came back from the DL. I think Nomar has a few more decent seasons left in him and it would be great to keep him around. Jim Hendry has said the team would resign him for the right price. Hopefully the Cubs won't be their usual cheap selves on this one.
8) Neifi?! Perez was signed to a two-year deal, much to the dismay of many in the Cubs blogosphere. I don't quite understand what all the fuss is about. Do you honestly think that resigning him means Dusty will be tempted to play him everyday? The way some people make it out, signing Neifi?! Is akin to waving a bag full of crack in front of a recovering junkie. "Put him on the bench and Dusty won't be able to help himself! 100 more games of Neifi at shortstop. Shoot me now!" Please. They signed him to be a utility guy. Look no further than the Cubs' pursuit of Furcal and possibly Gonzalez. The plan is not to have Neifi?! as an everyday player. You people are funny. By the way, the "?!" next to Neifi symbolizes the utter shock expressed by many Cub fans after he was signed. I imagine "Neifi!?" is what was uttered by fans after they found out about the signing. Followed by a steady stream of expletives.
9) Todd Walker and Glendon Rusch will also be back. Jeromy Burnitz was given his walking papers. Needless to say, I'll miss having Uncle Fester in right field.
More tomorrow.